Kirrily Dear co-founder of Run Against Violence shares how in 2017 the Run Against Virtual Virtual Team Challenge started when Kirrily ran from Broken Hill to Sydney over 19 days, and teams of runners raced her virtually to her goal. Now each year from 30 Aug the Run Against Violence Virtual Team Challenge encourages runners to run in teams to complete 1300km and raise funds to end the silence on domestic violence.
This year 50% of the funds will support the Love Bites Program.
Run Against Violence has recently joined forces with the National Association for Prevention of Child Abuse and Neglect (NAPCAN) to help ensure that every teenager in Australia has the opportunity to learn about what healthy relationships look like for them.
NAPCAN's Deputy CEO, Leesa Waters, said: "We are very excited to have the support of Run Against Violence in our work. Both our organisations are particularly concerned about the impacts of violence on children. Both our organisations believe that we all have a part to play. And both our organisations believe that educating young people is key for short- and long-term change.
"Love Bites is an innovative respectful relationships education program that gives Australia's young people the opportunity to have frank and open conversations about what healthy relationships look like, what red and green flags look like, what consent looks like, and much much more," added Leesa.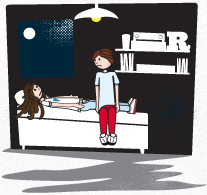 Love Bites Respectful Relationships Program – NAPCAN
Love Bites is based on best practice standards for education programs as recommended by the Federal Government funded Australian Domestic and Family Violence Clearing House and other leading academics in the area of violence against women.
https://www.napcan.org.au/Programs/love-bites/